Enabling/disabling fast start-up
We were largely able to fix the sluggish boot speeds by disabling Windows 10's fast start-up feature. To do this, open the Start Menu and type "power options" and select Power Options when it appears. When the Power Options window opens, select "Choose what the power button does" from the list on the left of the window.
If you see a small blue and yellow shield icon and the text "Change settings that are currently unavailable", click the text. You may need to enter your password or your PC administrator's password to do this. Now scroll down to the Shut-down settings list. Untick "Turn on fast start-up" and click Save changes. When you next switch on your PC you should immediately see a significant boot time cut.
10 Battery Problems
If you suddenly find your notebook, tablet or 2-in-1's battery doesn't last as long as it should, it may be time to turn on Windows 10's new Battery Saver feature.
Tap or click on the battery button in the right side of the Taskbar.
Either dim your device's display by tapping the button on the right or turn on Battery Saver to dim your screen and cut down on the notifications and extras running in the background.
Microsoft Edge Problems
Microsoft Edge is the new replacement for Internet Explorer. The company says that it's faster, more touch friendly and easier to use than the two versions of Internet Explorer it had in Windows 8.1. Overtime, Microsoft Edge should be come more reliable, but right now its very, very buggy on some sites.
If a site continuously gives you issues in Microsoft Edge, tap or click on the three dots in the top-right corner.
Select Open in Internet Explorer.
Windows Task Manager.
Launch the app by hitting Ctrl, Shift and Del then select the Startup tab – these are processes which are run by the operating system during the boot-up process.
Sort the list of items according to their Startup impact rating. Disable anything in the High category unless they are absolutely crucial programs, including your anti-virus solution.
It's worth remembering that AMD and Nvidia driver services are usually safe to remove from startup without any negative impact on your graphics hardware performance.
Reboot your Windows 10 PC and hit the Windows key and R as soon as your desktop appears.
Type in services.msc in the Run box and hit the Enter key.
Look at the list of services which populate the list and make a note of any which appear to be taking an unusually long time to launch.
If one of the processes is dragging its feet, simply Right-Click the item, Open them and then change their Settings from Default – to Delayed Start. Then save and reboot the system.
High Memory/RAM Usage
This issue may cause computer crashing, freezing, and running slower and slower. Bad performance. Luckily, there are easy solutions to solve this high memory/RAM/CPU usage issue on Windows 10.
Top 1. Registry Hack
In fact high memory usage not only occurs in Windows 10, but also happens in Window 8 and Windows 8.1. The Windows 8/8.1 registry hack can fix this high memory issue in Windows 10.
Step 1. Hit Windows Key + R Type in Regedit and then hit Enter.
Step 2. Go to: HKEY_LOCAL_MACHINE\SYSTEM\CurrentControlSet\Control\Session Manager\Memory Management in the editor.
Step 3. Find ClearPageFileAtShutDown and change its value to 1.
Step 4. Restart the computer.
Top 2. Fix Driver Issues on Windows 10 with 1 Click
It's really hard to check the driver issues manually, but there is one all-in-one driver fix tool,
Driver Talent
(formerly called DriveTheLife), which helps you 1 click to find out the driver problems and then fix them 1 click. You can try this tool to repair the corrupted, damaged, or incompatible drivers, download and install the best-matched drivers if they are missing, and update to the latest drivers if them are outdated.
Download and install Driver Talent on your computer.
Step 1. Run Driver Talent to scan your computer to identify all driver issues.
Step 2. Fix the driver issues by clicking on the buttons of "Repair", "Update", "Reinstall", "Install", etc.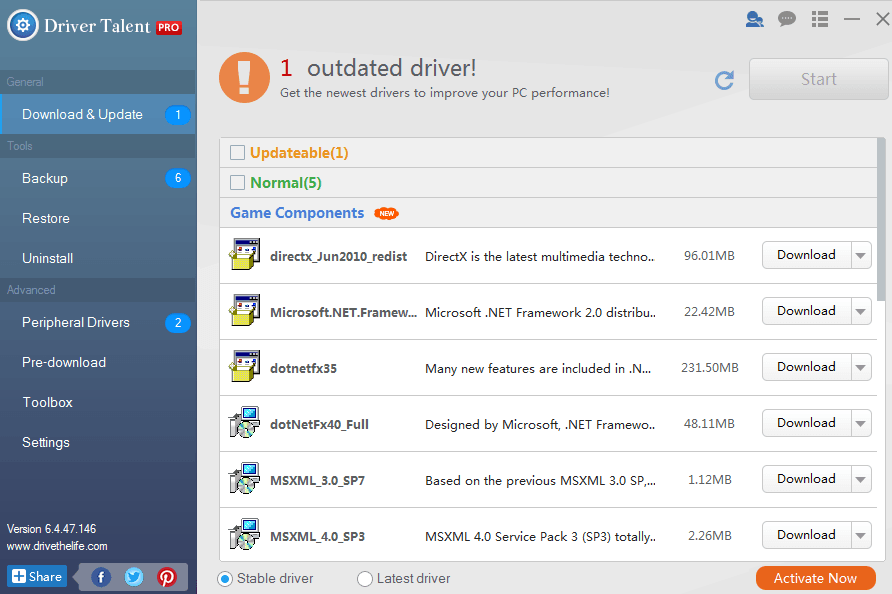 Step 3. Restart the computer after all the drivers are fixed.
Top 3. Fix Driver Issues Manually
Step 1. Download and install
Windows Driver Kit
from Microsoft official website.
Step 2. Go to the "Start" menu from Windows key and open "Command Prompt". Right click on the resulting icon and select "Run as Administrator" from the drop-down men.
Step 3. Type "cd C:Program Files (x86)Windows Kits8.1Toolsx64" and press "Enter" to go to the directory in the command prompt where WDK was installed
Step 4. Type "poolmon.exe" and then press "Enter". When the utility opens up, press "P" to sort via pooltype and then "B" to sort it according to number of bytes.
Step 5. Note down the pooltag of the item which is using a majority of the memory. Open another command prompt to check which driver the tag belongs to. For this type f indstr / s then the tag which you have noted
Step 6. The command will point to a specific sys file. Open the file properties to check which driver the file belongs to.
When you find out the driver, head over to the Microsoft site to download the official driver for Windows 10. Alternatively, try
Driver Talent
to install the Windows 10 drivers (all drivers are official and WHQL ones from manufacturers and from Microsoft).
Top 4. Adjust for Best Performance
Step 1. On the start screen of Windows 10, click on the "Desktop" icon.
Step 2. Right click on "Computer" icon and select "Properties".
Step 3. Select "Advanced System settings" to go to the "System properties" windows.
Step 4. Select "Settings", "Adjust for best performance" and "Apply".
Step 5. Click "OK". Restart your compuer.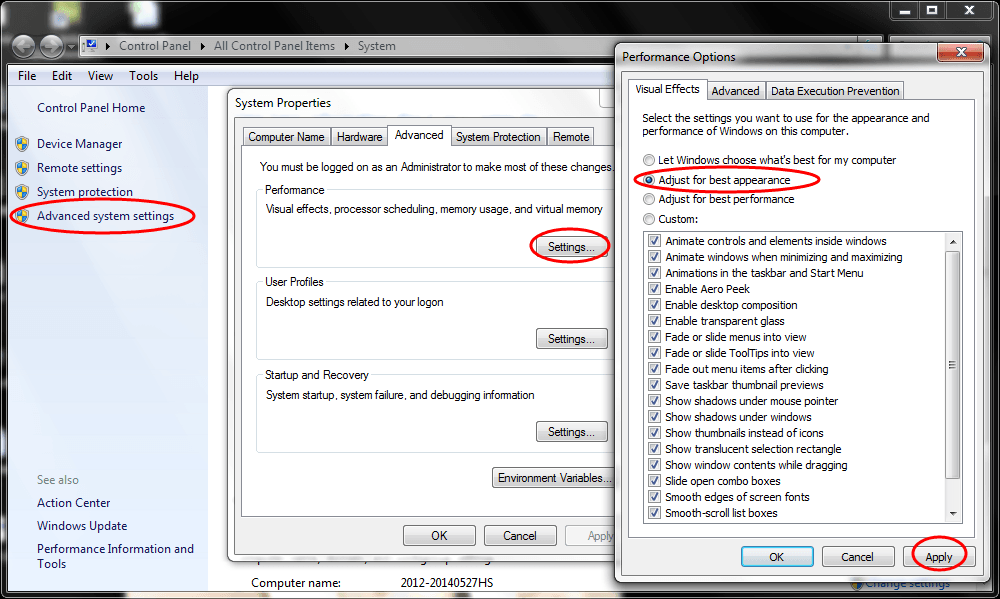 Top 5. Check All Apps Your Are Using
Open the task manager and look into the process tab to check if one of your apps is using more RAM memory then it is supposed to.
Uninstall the apps that you are not using on Windows 10.
Top 6. Disable Programs Running at Startup
It's suggested that you'd better disable as many programs as possible that are running at startup on Windows 10. This helps to save lots of CPU memory usage.
Step 1. Press the Windows button and "R" at the same time.
Step 2. Type "msconfig" without the quotes in the run window and press "Enter" of the keyboard.
Step 3. The Task manager window pops up. Click on the "Startup" tab and you will see a list of programs that run at startup.
Step 4. Right click on the applications that you don't want to run at startup and select "Disable".
Top 7. Defragment Hard Drives
Step 1. Press the Windows button and "R" at the same time.
Step 2. Type "dfrgui" without the quotes in the run window and press "Enter" of the keyboard.
Step 3. In the new window click on the hard drives you want to defragment.
Step 3. Click "Optimize" and follow the instructions on the screen to finish the defragment process.
Step 4. Restart your computer.
Top 8. Close As Many Applications As Possible
Only open the applications you need on Windows 10. Close other applications that you don't use at that time, especially when you update to Windows 10 on older computer.
Top 9. Scan to Check Third Party Programs
Run a full system virus to scan on your Windows 10 computer to make sure that you don't have any third party programs that make your system RAM take up more usage.
Top 10. Reboot Your Computer
This is simple but always helpful, especially when the Windows 10 operating system is not working at the speed you think it should be. Rebooting your computer can ensure that you don't have blocked applications in your process.
These methods can ensure that your Windows 10 only uses the necessary RAM or CPU memory and that the computer is working at the speed it should be. Try any of them till you fix the high memory usage issue after Windows 10 update on your computer. If you have any problem, leave it in your comment, or share this post with your friends if you find it helpful.